We're living in a digital world and many decisions are taken by looking at data points from a host of sources. This is true for all industries, including sports. In golf, the player who takes the least strokes takes home the trophy. If a player is not performing and missing cuts, his or her team will start looking at statistics to identify areas for improvement to get them back playing on the weekends – and ultimately make money again. How does the team decide what to work on?
What gets measured gets improved
– Peter Drucker 
 The above statement is spot on for golfers – especially those on the PGA Tour as they have access to so much data both on themselves but also how they compare to their competitors. They look at things like strokes gained off the tee, on greens, driving distance, scrambling, and putting. If a player is ranked low in driving distance and/or accuracy, the first port of call is to look at club and ball speed. 
Launch monitors
Products like Trackman, Flightscope and Foresight have been around for more than a decade now and has really changed how PGA Teaching and Coaching Professionals learn the progress their students are making, and indeed how they are identifying where to make changes and improvements to the golf swing. On their website, TrackMan describes their data like this: 
"We also call it TrachMan's heart as all insights derive from here. It is the very foundation on which all analysis and performance-enhancing software are developed; pure, precise, and reliable data that allows you to dissect and understand the DNA of any given swing." 
Today, most organizations are somewhat data-driven. They track followers, likes, and comments on social media. They track number of website visitors and actions taken. They look at ways to improve these and to convert them into leads or paying customers. The golfer wants to convert their efforts into lower and better scores by looking at the data and making the right decisions from that. 
The fitness component
Tour players, with possibly a couple of exceptions, have a detailed fitness program to help them stay in shape and enable their bodies to perform the movements required for swinging the club in a way that lets them achieve the best results. Recently we've seen Bryson DeChambeau add significant weight through working out thus giving him a real advantage of the tee taking traps and obstacles out of play by flying right past them. Does this apply to the average golfer wanting to improve their game by a couple of strokes? Possibly, but the likelihood is they will gain more by working on their mobility, stability, and strengths at a lower intensity than players doing this for a living. Kinexit recently surveyed a group of golfers in North Carolina and the results were intriguing. Here is what we did: 
We took each golfer through a 15-minute mobility screening to identify their strengths and weaknesses. Once they entered their results into our online application, our algorithm calculated what areas they needed to work on

. We also measured the club speed, driving distance and noted 

down their club speed

 

Each golfer worked out at least 15 minutes 3 times per week

 for 90 days. They selected which type of workout they wanted and the duration. Many of the golfers told us they worked out while watching the Evening news in their living room as all they needed was a yoga mat




 

At the end of the 90 days, we tested all golfers again and the results were amazing. And really, the most amazing thing for us as they all told us they felt their general health had improved during this period. They played on average 2 more rounds of golf per month, increased their club speed by 2 MPH resulting in regaining 8-15 yards in driving distance
This study shows us fitness, and indeed golf-specific fitness is particularly important not only for the player but for PGA Teaching and Coaching professionals as well. In our study, some players increased their club speed by so much they need new clubs with different shafts to match their newfound strengths. This resulted in more lessons, custom fittings adding up to 15% to the bottom line for the PGA Professionals. 
Distance vs. Accuracy – which is most important?
During one of Kinexit's recent webinars, Mike Tabbert, PGA Professional at Ironworks Golf Lab, IL, said this: Research shows you can drive the ball further with a higher degree of inaccuracy and still gain strokes on your opponents.  
We're hearing more and more about gaining distance right now – especially with Bryson DeChambeau's approach to playing golf. If you follow the metrics in the research the R&A and USGA recently published, the advantages gained from driving the golf ball further are impactful. When playing the same tees as your competitors in a tournament, you're obviously going to have an advantage with a shorter club into the green. There is evidence saying you can drive the golf ball further and even more inaccurate and still reach a more strokes gained from driving you can improve your ability to score through distance. Hitting a shorter club into the green will allow you more forgiveness with a higher lofted club and better control. Hitting more greens will hopefully allow you sink more putts. Great opportunity for the longer hitters. Another factor is you can choose a more conservative club off the tee for higher accuracy. Knowing you are one of the longest hitters in the field will give you added confidence even before you hit your first shot. Making more putts and driving the ball further are two of the most requested topics in our lessons. 
Looking at the statistics from the PGA Tour shows hitting greens in regulation shows with different clubs. The best players in the world miss the green more than half of the time when more than 200 yards away from the green. Driving the ball further will give you an advantage with a shorter club in your hand.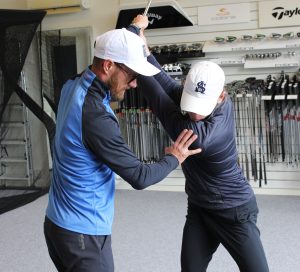 If you look at the driving statistics for the last 5 years you will see the longer hitters hit more greens in regulation than the shorter and more accurate hitters. Hitting more greens in regulation enables you to make more money and finish higher in the FedEx Cup. 
Caught your attention? Sign up for a two-week trial to Kinexit and find out how you can add golf-specific fitness to your lesson packages – with confidence.