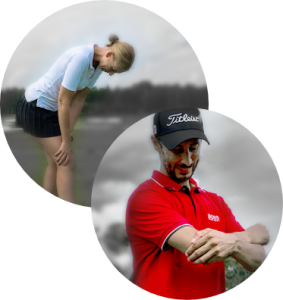 When you're stiff, it feels like you're trapped in your own body. Since you're reading this today, maybe you can relate to that stuck?
Most golfers we have worked with are frustrated because they have lost their basic range of motion, such as bending forward at the hips and squatting down deeply and twisting their upper body.
The good news is you can regain your lost mobility (and often much, much more), and the benefits you'll experience go way beyond traditional fitness. Here's why our approach matters:
Play Injury Free
Let's be clear: tight muscles don't cause injuries – poor movement patterns do. When you're tight and imbalanced, your body creates workarounds that get you into trouble. For example, Golfers with tight hips and hamstrings often externally rotate their hips, causing improper loading in the glutes when swinging. Golfers with tight shoulders are usually in a constant hunch. These imbalances lead to lower back, neck, and knee injuries, among others.
The number one reason people stop playing golf is that they get hurt and lose momentum. The good news is that with our highly targeted personalized golf-fitness regimen, you can move toward a balanced body, create your most powerful golf swing and reduce your risk of injury for life.
Play Better Golf
When your body is open and limber, everything works and feels better. Movement becomes fun again and your golf game better.