Make your body golf ready
At Kinexit, our vision is to increase participation in golf across all age groups by giving teacher, coaches and players a platform where they can make sure their body is ready to play as much golf as they desire. When we meet coaches like John Ståhl we get really excited as he shares our belief. Here is what he said:
'Practice hones your skills and yield results

The fitness factor determines your swing technique'
This statement is exactly why we started Kinexit in the first place. A player can practice and play as much golf as they want, but if they have movement restrictions or pain, they will not develop much. By using our technology, each golfer gets a personalized and golf-specific program based on an easy-to-perform mobility screening. We recommend users are screened every 5-6 weeks to ensure the exercises offered in our app match their current fitness level.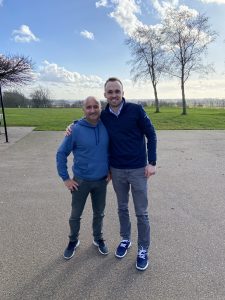 John said this following his Kinexit Certification workshop: "I've been looking for something like this for the past 2 years. I am both a PGA Professional and a Fitness coach and I really see the connection between a player's physical ability and fitness level. And this has a knock-on effect. If a player has pain or movement restrictions, I won't be able to help them fit their clubs properly. Equipment, swing technique, and fitness really are closely linked to each other."
Chris Mansson of Kinexit said this after meeting with John: "I'm meeting more and more golf teachers and coaches locally, and globally, with the same mindset as John. As a Personal Trainer and movement expert I'm really thrilled fitness, and mobility and stability in particular, now is getting so much attention in our sport. With the right exercises, younger players can improve faster and older players can play longer into life – together they can enjoy the beautiful game of golf. On top of that, clubs, academies, coaches, and teachers have more engaged members, round of play go up and they can build a better business."